Experts have proposed the establishment of an autonomous secretariat specialized to provide support to the National Finance Commission.
In a meeting held at the Islamabad Club on the 21st of July 2017, distinguished economists and policy experts discussed the future of the NFC, and how to strengthen the resource sharing formula.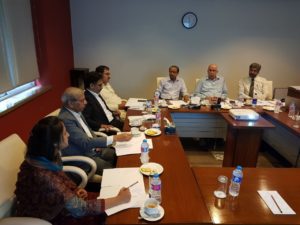 Dr. Kaiser Bengali, technical advisor to the Baluchistan Government on the National Finance Commission stated that the NFC by nature is prone to deadlocks. He suggested that the NFC formula may be made more inclusive by factoring in criteria which accommodate the concerns of smaller provinces.
Abdul Wajid Rana, former Federal Finance Secretary stressed on the need for tax harmonization. He pointed out that the 18th amendment called for devolution, and that Sindh has been demanding devolution of taxes to the provinces.
Ali Salman, Executive Director at PRIME Institute suggested that a paper is devised on the structure of the NFC, which could also take the form of a policy proposal. He also proposed devising a shadow Finance Commission.
Ms. Ayesha Bilal, Chief Operating Officer at PRIME cautioned that the formation of a separate secretariat could lead to bureaucratic hurdles.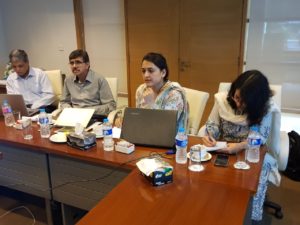 Dr. Razaullah of the Islamia College pointed out that provincial GDP, the urban-rural divide, and remittances are not being factored into resource sharing formula.
Former Civil Servant Dr. Shujaat suggested that the autonomous NFC secretariat should be housed at the Finance Ministry and headed by a Chairperson, ratified by the National Finance Commission. The suggestion for a separate secretariat was widely endorsed.
Political Philosopher Dr. Khalil Ahmed raised the issue of why larger provinces were being forced to contribute to the smaller provinces.
Sana Durrani, a member of the National Commission on the Status of Women, said that budget lines need to be predetermined in order to prevent wastage of funds.