Senior Economist and Balochistan's technical member on the National Finance Commission, Dr Kaiser Bengali said a lack of political will is keeping the National Finance Commission from performing its constitutional duties. Speaking at the fourth consultative session on the National Finance Commission Award organized by Policy Research Institute of Market Economy on the 9th of May at the Movenpick Hotel in Karachi, Dr Kaiser Bengali stated that instead of extending the distribution formula from the 7th NFC Awards through a presidential order, the mechanism should be endorsed by the National Finance Commission as imbibed in the constitution.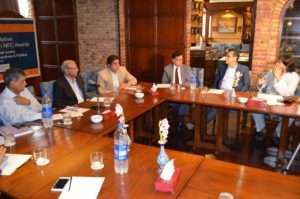 Dr Bengali stated under the current circumstances, the formula determined by the 7th NFC Award is probably the best available solution.
Former Federal Finance Secretary Abdul Wajid Rana remarked that since the 7th NFC Award, the Federal government is almost in a state of perpetual high fiscal deficit.  He noted that there is a constitutional provision which prohibits any decrease in the provincial shares determined under the 7th NFC Award. He expressed concern that the federal government is encroaching upon the provincial revenue domain. He also said that differences in the GST on services across provinces would have the spillover effect on fiscal equity. He said there is a dire need for the new NFC award, but there is also a need to harmonised the tax rate and ensure clear taxation jurisdiction for the federation and the provinces.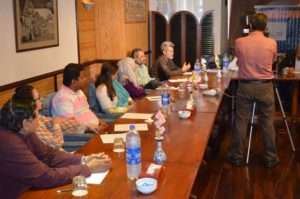 Sohaib Jamali, Editor BR Research opined that the National Finance Commission could be more equitable and just if the Award was adjusted annually with changing poverty statistics.
Asif Iqbal, Principle Economist of the Social Policy Development Center said that the provinces are not enthusiastic about pushing for the 9th NFC Award because they feel assured of receiving the minimum promised under the 7th NFC, but also because they do not expect the Federal government to increase their respective shares.
Nasim Beg Chief Executive of Arif Habib Consultancy stated that the government must rationalise the tax policy, and create linkages between revenues and expenditures if it wants to sustainably fund poverty alleviation and social safety programs.
During the question and answer session, participants who belonged to the business community, civil society, and academia, all raised concern regarding the accountability mechanisms built into the NFC Award.