PRIME Institute in collaboration with Emel Publishers has published Ghurbat Aur Ghulami, Kaisay Khatam Ho by Zeeshan Hashim, an in-depth analysis of the economic conditions affecting the common man in Pakistan.
In the book, the economist and researcher explore Pakistan's economy, but in the context of the issues faced by individual Pakistanis, and presents policy solutions grounded in capitalism. The launch held in Islamabad (on Thursday, 20th of July) was well attended by the likes of journalists, economists, philosophers, businessmen, and other members of the intellectual society.
Chief Guest of the Ceremony Senator Afrasyab Khattak congratulated Zeeshan Hashim for being published and emphasized on the critical role books play in bringing about a positive change in society.
Commenting on the current situation the ANP Senator, blamed the government for weakening the Parliament. He, however, stated that the country had defeated coup attempts in the past, and was confident that democracy would prevail.
The author of the book Mr. Zeeshan Hashim said that his book Ghurbat aur Ghulami, which roughly translates to Poverty and Slavery makes a case for individual liberty and economic freedom. He said that poverty itself is a form of slavery, and is used to manipulate power.
Dr. Shahid Siddiqui, Vice Chancellor of the Allama Iqbal Open University praised the contents of the book, and pointed out that the social consciousness had in essence been hijacked. He said that society has developed Stockholm syndrome, and encouraged those seeking to oppress it. This was seconded by Journalist Wajahat Masood, who said that Pakistan had suffered greatly under authoritarian rule.
Senior Journalist Izhar ul haq lauded Zeeshan Hashim, for writing an accessible Urdu book which aims to make complex concepts more understandable for the general public.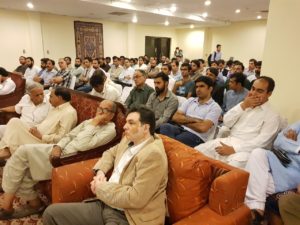 Dr. Sajid Ali Chairman of the Department of Philosophy Punjab University congratulated the author for being published at a very young age and spoke about Ghurbat and Ghulami's emphasis on individualism and individual freedoms, a topic which he said was dear to his heart.
Political Economist and Executive Director of the Free Market Think Tank Alternate Solutions Institute, Dr. Khalil Ahmed stated that Ghurbat aur Ghalmi would help to create awareness, and because it deals with an array of broad subjects of the economy, was, in essence, a short encyclopedia on classic liberalism.
Executive Director PRIME Institute Ali Salman stated that Zeeshan Hashim was one of PRIME's most talented research fellows. He said that Ghurbat Aur Ghulami was PRIME's first effort in Urdu, and hoped that the ideas of the book would reach a broad audience.