A consultative session on metropolitan competitiveness was organized in Lahore. The session was attended by government representatives, businessmen leaders, and academics. The sessions are being conducted by PRIME scholars Mr Zia Banday, Syed Ali, and Ms Aniqa Arshad.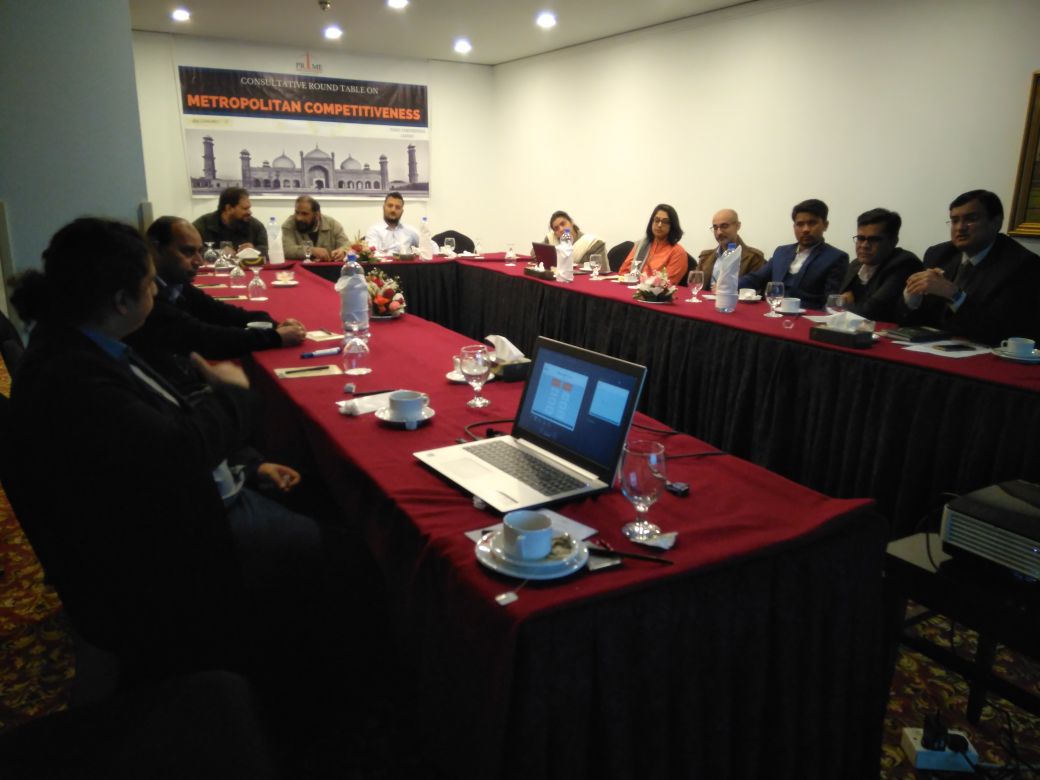 The existing endowments of Lahore identified at the Lahore Consultative Session were it being a high concentration area for education institutions, known as the "seat of learning" GC Lahore is over 150 years old and institutions such as the FC have produced multiple presidents and prime ministers. It has around 46000 on campus enrollments and about half a million students are enrolled in colleges affiliated with it; contributed Zulfiqar Ali, director BOI. High concentration of educational A lot of population from adjacent areas come to Lahore for formal education. The natural environment of Lahore is also very conducive to blossoming population. An additional advantage was the natural water of Lahore. The underground water was easily accessible and Ravi being close to Lahore is another advantage. However, the audience feared this particular advantage is going to turn into a disadvantage soon. Good health facilities were also identified as a strength, along with zero load shedding leading to a reliable supply of electricity and gas.
Traffic seems to be becoming a growing problem for the city and is affecting movement and hindering mobility. But communication infrastructure is strong and connects Gujranwala, Gujrat, Kasur and other cities with Lahore: making transportation of goods as well as raw materials cheap and convenient. Despite connectivity labor costs are higher than that in other metropolitan cities but cheaper than other cities of Punjab. Sana Rizvi, a senior analyst at Urban Unit Lahore commented that Lahore is not being developed by a proper plan, it is being developed very haphazardly and causing a lot of over densification is causing a lot of problem with respect to physical urban planning and the issues of sprawl. Being close to agricultural centers the transport and storage costs are majorly reduced but since the city has been facing rapid expansion, agriculture has been shifted to the outskirts increasing cost of vegetables and fruits in the local markets leading to an increase in the cost of living. Environmental degradation seems to be increasing at a really fast pace and is an active threat to Lahore.
Nationwide consultations are being organized by the Policy Research Institute of Market Economy to gather views, opinions, and suggestions for improving the competitiveness, business environment, and livability of major Metropolitan cities and Urban centers of Pak n of Pakistan.