The National Finance Commission Allocations must be linked to socio-economic objectives such as health and education. This was held in agreement by a working group of top policy experts at the 1st Consultative session on the National Finance Commission organised by the Policy Research Institute of Market Economy (PRIME Institute) in Islamabad.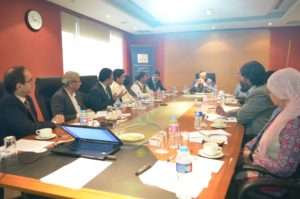 The working group comprises Abdul Wajid Rana, Dr. Kaiser Bengali, Dr. Idrees Khawaja, Dr. Iftikhar Ahmad, Dr. Karim Khan, Dr. Shumail Daud, Sohaib Jamali, and Ali Salman.
The independent and diverse working group of seasoned economists, policy practitioners, journalists, and academic experts has been brought together by PRIME Institute to help resolve the current stalemate over the National Finance Commission Award and will push to develop national consensus over an alternative structure of the NFC.
Speaking on this occasion, NFC Represented of Balochistan and senior economist Dr Kaiser Bengali said that a new narrative is needed aro1und NFC to break the stalemate.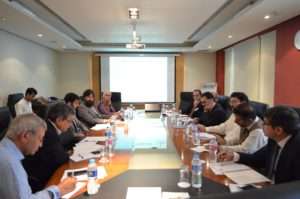 Former Federal Secretary of Finance Abdul Wajid Rana stated that the criteria and structure of NFC need to be reviewed.The working group will review the allocations criteria, tax sharing formula, and will also suggest mechanisms for efficient and performance-based development allocation.
Executive Director of PRIME Institute Ali Salman cautioned that the success of this initiative hinges on the relevance, timeliness and quality of policy analysis generated by the group, as well as the level of interest from the policy makers.
The group of experts has strongly agreed to deliberate over linking some part of NFC allocations to socioeconomic objectives, such as education and health instead of an altogether block transfer.
PRIME Institute is an independent and non-partisan think-tank based in Islamabad and is currently working with the National Endowment for Democracy, an American non-profit to provide independent research, advice and advocacy on the NFC Structure and Award.