PRIME Institute was invited to give a presentation to the senior officials of the Ministry of Commerce including Mr Younas Dagha, Secretary Commerce; Mr. Asad Hayauddin, Additional Secretary and senior officers including the Joint and Deputy Secretaries. The delegation from PRIME Institute consisted of Dr Manzoor Ahmad- President (Hon), Ayesha Bilal- COO, and Shehryar Aziz- Research Associate. Each participant was presented with a collection of PRIME's commissioned studies and reports, including the 8th Federal Manifesto Tracking Report and a booklet on Unilateral Trade Liberalization.
Ayesha Bilal first gave an overview of PRIME Institute and then briefly described all its ongoing and a few of the completed projects. Special emphasis was laid upon the 8th Federal Manifesto Tracking Report.Other topics included in the presentation related to Domestic Competitiveness, Taxation Reforms, Contract Enforcement, National Finance Commission Award, Pharmaceutical Sector, and Young Fellows Program.
Secretary Commerce emphasized the importance for improving Contract Enforcement in Pakistan. He also asked about the background of the Institute and its founder.Ayesha explained the work done on Contract Enforcement and also responded to the Secretary's inquiry about PRIME and its founder Ali Salman.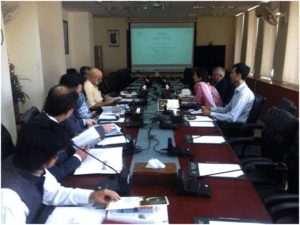 Dr.Manzoor briefed the participants about the studies undertaken by researchers of PRIME. Giving an overview of PRIME's study on Information Technology Agreement, he said that apart from Latin American and African countries, almost the entire world has acceded to Information Technology Agreement. Pakistan has been deliberating on this issue for the last 20 years and needs to decide now if it wants to be a part of the global trade in IT products. He also referred to the ITA Committee set up by the Prime Minister Secretariat and the deliberation of the Committee.
He also shared the key findings of the tariff liberalization study, which showed that whichever country carried out serious reforms, it boosted their exports. It was also true said that whenever Pakistan engaged in trade liberalization, its exports saw an improvement. He said that liberalism is the surest way for boosting exports and achieving economic development. Tariff determination should be made more systematically and by an independent body such as the National Tariff Commission. Already the USAID Trade Project prepared a tariff reform report and the roadmap for its implementation but no action has been taken for the last 3 years. A representative of Commerce explained that the tariff reform study is now receiving attention.
Dr Manzoor then gave an overview of other studies carried out by PRIME such as those relating to Sanitary and Phytosanitary Measures, Technical Barriers to Trade, Trade Facilitation for SMEs and Services. In this connection, he gave some specific examples where Pakistan can easily boost its exports if it met the standards of its export market or properly represent its case in those markets.
The Secretary Commerce expressed his intent to visit PRIME headquarters in the near future and receive a detailed presentation on how to revive Pakistan's exports and steps to be taken in the short term and how to actually bring about trade liberalization in the long term. He also requested for cooperation for establishing a list of raw materials, which are mostly used for export products and where duty rates need to be reduced to zero.
All in all, it was a very fruitful meeting. The Secretary and other senior officers took a keen interest in PRIME's briefing and expressed their desire to further discuss the studies for possible implementation of their recommendations.