Scale down public debt, make it productive and manage it professionally, conference on debt concludes
Top economists and debt policy experts of the country have asked the government to scale down public debt, improve its composition, condition debt contracting with returns, and manage it professionally. These views were expressed in PRIME-Business Recorder National Debt Conference held in Islamabad with the support from Friedrich Naumann Foundation.
Opening the conference, Dr. Ashfaque Hasan Khan said that rising level of public debt has become a major threat to macro-economic stability and development and has potentially become fiscally unsustainable. Dr. Ashfaque, quoting data from Economic Affairs Division, said that the present government has borrowed 12.5 billion dollars of new debt in just over one year. Agreeing in principle with the IMF programme, Dr. Khan said that IMF has resorted to self-serving and defensive lending.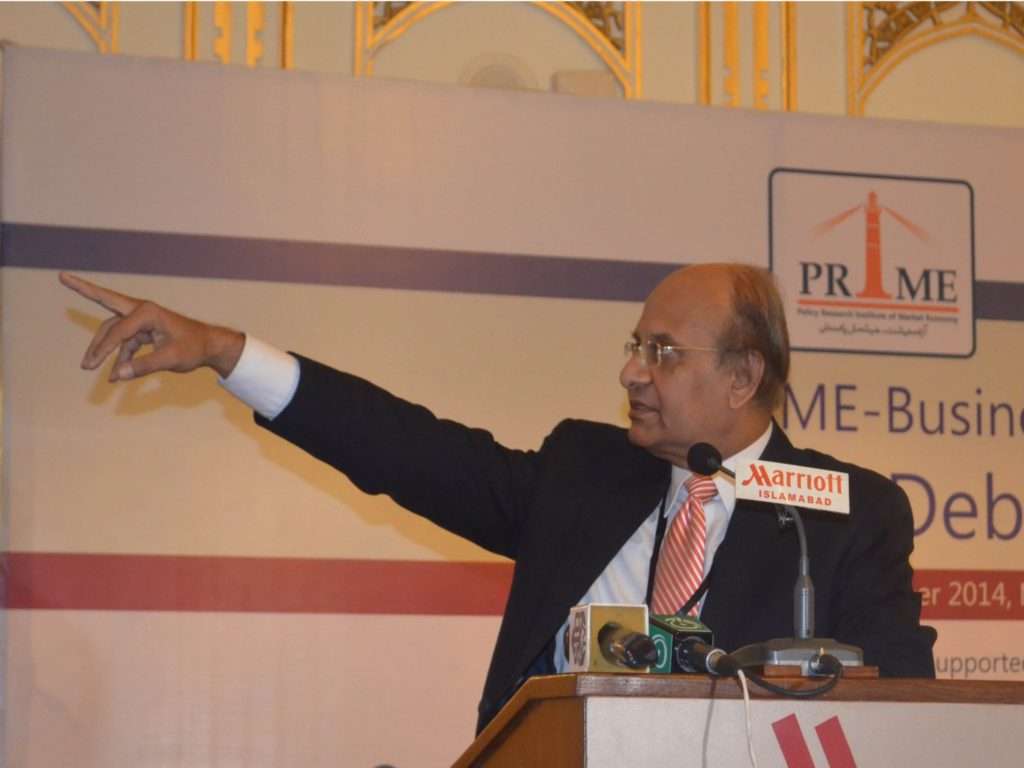 Speaking in the conference, former governor of the State Bank Syed Salim Raza defined mandate of a professional debt management office which is to reduce cost, develop sustainability, of Government debt, and contribute to building the framework for broad-based Debt Capital markets. He also stressed on the need of Control of Consolidated National Debt database, and Centralised authority for planning, structuring, execution and market intervention, for Government debt.
Noted economist Dr. Kaiser Bengali opined that debt can be a useful instrument to promote investment for growth and development. However, it needs to be ensured that the investment can be tangibly measured and the return from the investment is at least one percent more than the cost of borrowing.
Presenting his paper, Sakib Sherani pointed out power sector subsidies, poor debt management and technical inefficiencies as factors for escalating public debt.
In his message for the conference, DFID economist Alan Whitworth underscored poor tax collection as major reason of fiscal deficit that has led to rising level of public debt.
Sharing results of his research, Dr. Haider Mahmood said that the fiscal policy of a country is essentially constrained by requirement to finance the public deficit. It means that in the long-run the market value of government debt must be equal to present value of the entire discounted upcoming budget surpluses.
PRIME's Associate Fellow, Juvaria Jafri viewed that external debt is complicated by the fact that much of the foreign debt is owed by the public sector, whereas export earnings and an important part of foreign assets are owned by the private sector.
Economic journalist, Ali Khizar said that PML-N government should concurrently design policies to diversify exports and add new avenues of exports through fiscal incentives.
Participating in the panel discussion, Dr. Tariq Mahmood shared that external debt seems to have retarded growth during the period of study when external debt to GDP alone is considered in the growth regression. His study further suggests that for a given amount of total external debt, heavier reliance on bilateral rather than multilateral debt needs to be decreased as it tends to retard economic growth.
Managing Director of Karachi Stock Exchange, Nadeem Naqvi emphasized on the need of a deeper, more liquid GDS market should: which can enable greater participation in capital markets and help increase financial inclusion, make GDS pricing more transparent and market driven, and help develop more sophisticated savings & investment products.
The conference concluding session was addressed by the Adviser to Finance Minister, Rana Assad Amin who stressed that the government's increased financial credibility has been underscored by positive response from international capital markets and favourable reviews by IMF and credit rating agencies. He added that the government is implementing on a comprehensive debt management strategy by reducing its reliance on short-term and expensive loans.
Eminent speakers in National Debt Conference included country's top economic experts like Dr. Ashfaque Hasan Khan, Syed Salim Raza, Shahid Hafeez Kardar, Sakib Sherani, Arshad Zuberi, and Dr. Kaiser Bengali. Young academics included Dr. Haider Mahmood, Dr. Tariq Majeed, Juvaria Jafri, Ali Khizar. PRIME Board of Directors Chairman, Najaf Yawar Khan, Executive Director, Ali Salman, resident representative of Friedrich Naumann Foundation Dr. Almut Besold, and Deputy Head of Business Recorder, Arshad Zuberi also spoke. Head of Karachi Stock Exchange, Nadeem Naqvi, and head of a commercial bank, Shazad Dada also participated as panelists.
PRIME's Executive Director Ali Salman said that the National Debt Conference (NDC) has been organised to raise awareness amongst parliamentarians, policymakers, general public and other stakeholders about the rationality and consequences of increase in public debt and its structure for our economic freedom; and to arrive at policy suggestions that improve our management of national debt.
Debt Conference concept note says that increased level of public debt poses significant risks economic freedom which is curtailed as more debt is followed by more debt servicing, which is often financed by taxation or simply by more debts. Thus new taxes are imposed as a mean for debt servicing or worse, money printing is adopted. Thus a conference on debt management will be helpful for macro-economic policy makers and business community at large.
National Debt Conference was organized jointly by PRIME Institute, an economic policy think tank in Islamabad and Business Recorder, with the support from Friedrich Naumann Foundation for Freedom.