Peshawar amongst the least competitive cities in Pakistan, yet the fastest growing city according to a report "Cities as Drivers of Growth" published by Policy Research Institute of Market Economy (PRIME) Institute.
The report which was launched at the Islamabad Chambers of Commerce and Industries measures competitiveness between the four provincial capitals and the Federal Capital.
Islamabad was ranked 1st, Lahore 2nd, Karachi 3rd, Peshawar 4th and Quetta 5th.
The report presents an informed comparative analysis of the competitiveness of Pakistani cities with quantitative city-based data. The report took three pillars to identify competitiveness of the cities namely Economic Dynamism, Infrastructure Efficiency, Livability Aspects. There are 13 sub pillars and a total of 41 indicators. The main objective of the report is to collect, compile and update information and data at the local level from Islamabad, Peshawar, Lahore, Quetta and Karachi to create the Metropolitan Competitiveness Index (MCI) for each. In order to capture the perceptions regarding competitiveness, the study also presents findings of consultations arranged in each city and compares these perceptions to the MCI based on factual data. People from private sector, academia, local government and civil society participated in these talks.
The study evaluates each city based on all indicators. The analysis shows that out of 41 indicators, Islamabad ranked first 39 percent of the times. Lahore ranked first 27 per cent of the time. Karachi and Quetta ranked first 12 percent of the time. Peshawar ranked first only 9 percent of the times. All except Islamabad ranked second more than 20 per cent of the time.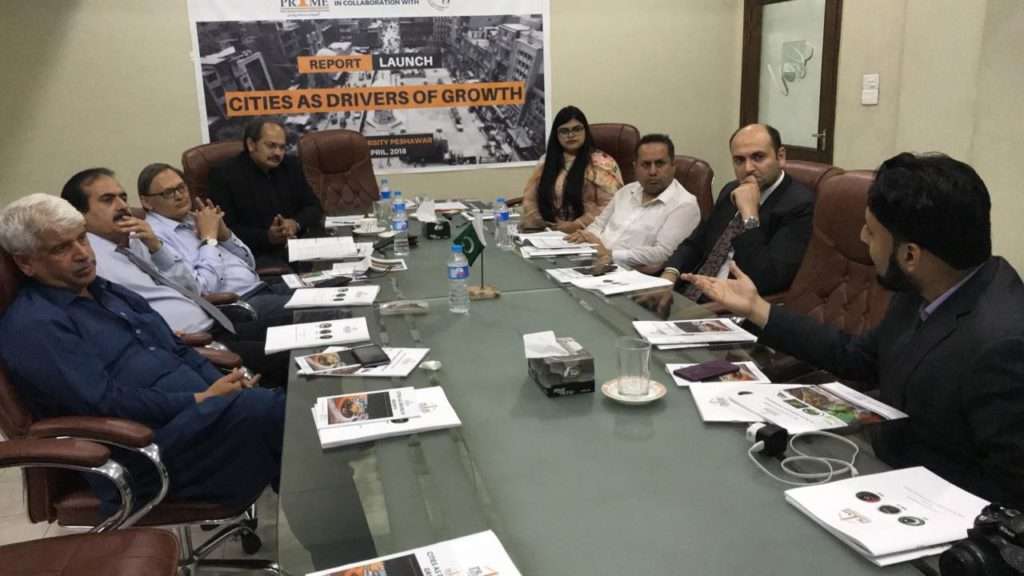 Islamabad is ranked 1st in MCI, with a value of 0.74. Lahore is ranked 2nd in MCI. The value of MCI for Lahore is 0.50, showing that it is a moderately competitive city.  Karachi is ranked 3rd in MCI. The value of MCI is 0.45, which is slightly lower than Lahore. Peshawar ranks 4th on the index with an MCI value of 0.38, indicating low competitiveness for the city. With a value of 0.35, Quetta ranked fifth in MCI.
In Economic Dynamism, Islamabad is ranked 1st, Lahore 2nd, Karachi 3rd, Peshawar 4th and Quetta 5th.
In Infrastructure Efficiency Islamabad is ranked 1st, Quetta 2nd, Lahore 3rd, Karachi 4th and Peshawar 5th.
In Livability Aspects, Islamabad is ranked 1st, Karachi 2nd, Quetta 3rd, Peshawar 4th and Lahore 5th.
Peshawar has the highest real growth rate marked at an alarming 12.3%, but poor infrastructure, livability and dynamism obstruct Peshawar to get a higher rank on the MCI.
According to the report, Pakistan's population is expected to reach 230 million, from today's 208 million, by 2030.  The share of urban population will increase from 36% (2017) to 46.6% (2030). Seventeen cities have populations of more than one million. Urbanization has the potential to drive productivity, with cities as engines of growth. Cities create opportunities and play a key role in creating jobs, enhancing market competition and improving livability. If cities are managed poorly they may become centers of disease, crime, and despair.
Now is the right time for Pakistan to acknowledge the role of cities in attracting investment and providing jobs to the youth. This goal can only be achieved with more competent and professional local governments, conducive business regulations, improvements in the quality of life through better provision of basic services such as education, health, water, and security, and research-based decision making.