PRIME Institute an independent public policy Think tank working in Islamabad for an Open, Free and Prosperous Pakistani economy,  conducted a Policy Roundtable on overcoming policy barriers in access to quality medicine on the 26th of January 2017, at the Islamabad Marriott. The Roundtable event was focused on identifying problems in the access to healthcare and pharmaceuticals sector, as well proposing possible solutions.
The event brought together notable personalities from the public and private sectors including regulators, senior management from pharmaceutical and healthcare companies, economists, and policy professionals.The event was moderated by Dr Shimail Daud, former president of the Rawalpindi Chambers of Commerce and Industries. The panel of experts included Dr Manzoor Ahmad, Pakistan's former ambassador to the World Trade organisation, Shahid Mehmood Head of research at PRIME Institute, Dr AQ Javed Iqbal, a member of the Pharmacy Council of Pakistan, and Senator Mian Ateeq.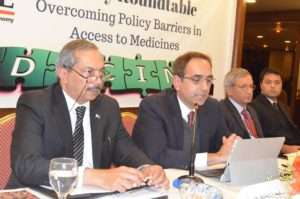 Moderating the discussion, Dr Shimail Daud, former President of the Rawalpindi Chamber of Commerce and Industries stated that In spite of an average cumulative growth rate of around 12% in the pharmaceutical industry, it is worried about its future.
Shahid Mehmood shared the findings of a recent survey conducted on access to essential medicines. He said that some statistics say that only 39% of the essential medication is available in the government sector, while AKU studies say that only 3.3% are available. He added that out of 70,000 registered medication worldwide, only about 10,000 are produced in Pakistan.
Dr AQ Javed Iqbal stated that applications for registering life-saving anti-cancer drugs have been pending in Pakistan from as long ago as 2009, but those drugs have not been registered yet.  Cancer has become highly treatable worldwide, but deaths due to cancer are on the rise because of a lack of quality treatment. It is absolutely criminal not to provide patients with the required medication.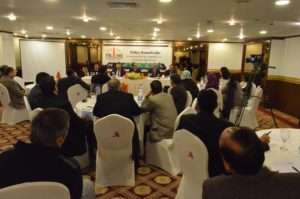 He added that 60 out of 100 anti-cancer medication available worldwide are not available in Pakistan. The government needs to remedy this situation. He concluded by saying that access to healthcare practices are futile without effective drugs. Ineffective drugs hamper the whole healthcare system – long-term illness leads to more occupancy of hospital beds, crowding out new patients and putting pressure on limited hospital resources.
Senator Mian Ateeq observed that Pakistan has not developed a list of essential meds for the past 10-12 years. He shared that when he presented the issue in the Senate, he was told that it is a devolved matter. He stressed that the centre and the provinces thus both struggle to take responsibility for this issue. He said that drugs are cheap in India because of clearer regulations regarding licensing, legislation, pricing, and quality.
Manzoor Ahmed speaking on the future of policy in the Pharma and access to Healthcare sector said that Pakistan must manage its pricing policy and join international pharmaceutical conventions to facilitate trade, engage in contract manufacturing, and benchmark our policies with comparable economies and neighbours such as India.
Director Pricing at the Drug Regulatory Authority Mr Amanullah during the question and answer session stated that the broad understanding of Pakistani drug regulatory environment is weak, and requires greater attention in order to deal with its specific intricacies.
Mrs Ayesha Bilal Chief Operating Officer at PRIME in her closing remarks stated that the primary purpose of this event was to initiate a discussion on the availability of medicine to Pakistanis by cultivating a relationship of cooperation between the public and private sector.