Use markets creatively to solve the problems of poverty, PRIME Talk Pakistan's pressing problem of water scarcity by defining water as private property, instead of considering it as an entitlement. Results have been shown by a social enterprise, Changa Pani Programme, established in Bhalwal, Punjab led by a social entrepreneur, Malik Nazeer Ahmad Wattoo. Similarly, rural prosperity can be ensured by financial intermediation, technological intermediation, product marketing and product development. Such a model has been successfully demonstrated by RuralAsia Enterprise, a firm based in Kamalia, Punjab, run by Aijaz Nizamani.
PRIME Institute, a think based in Islamabad, organized PRIME Talk to celebrate the two models of social and rural entrepreneurship.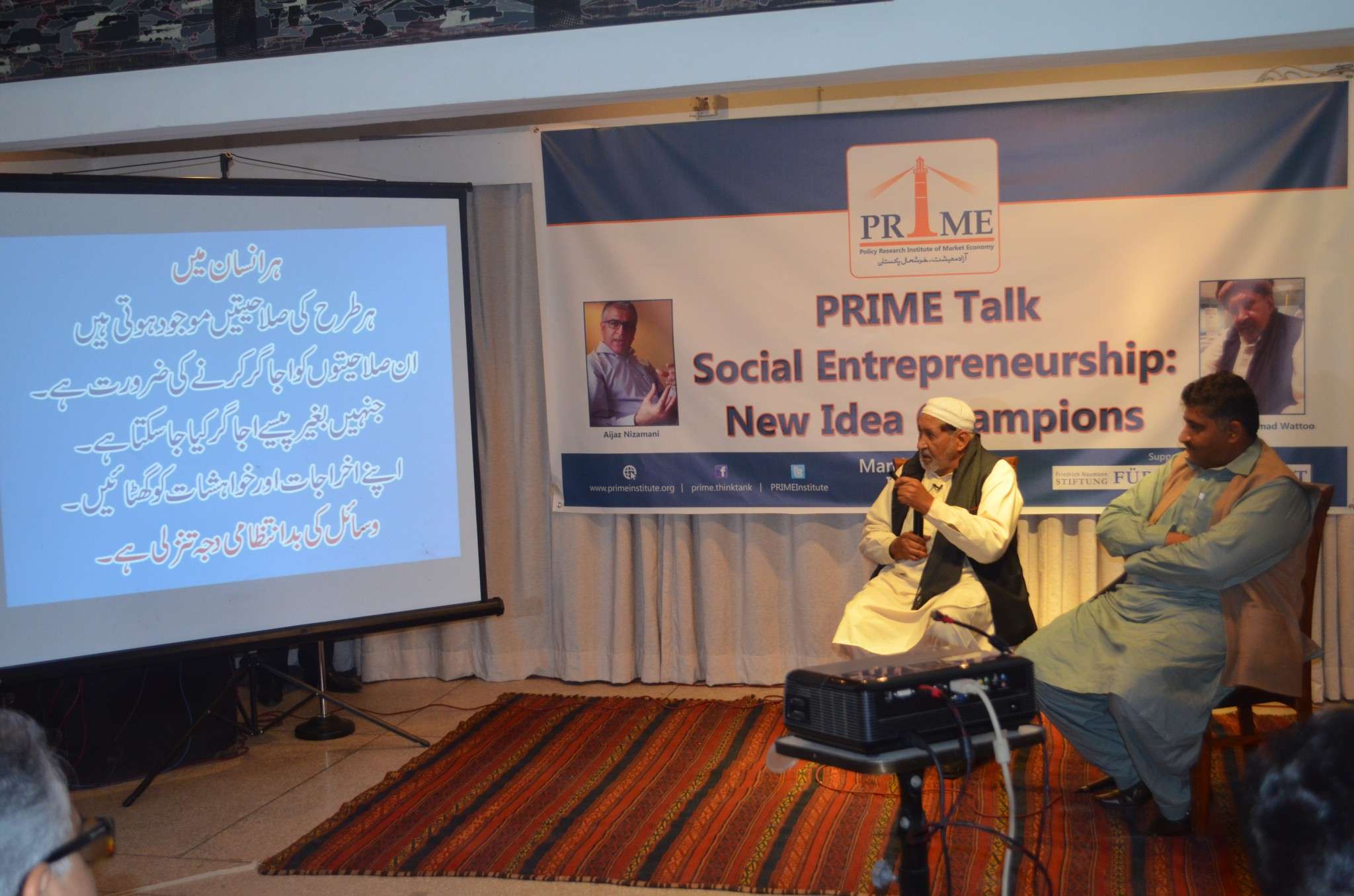 Aijaz Nizamani said that RuralAsia helps in raising rural incomes by financial intermediation, technological intermediation, product marketing and product development with demand side from rural clientele and supply side from urban business clientele. Over a ten year business history, Ruralasia has generated an actual business Rs. 400 million (financial intermediation Rs. 200 million in Sindh and over Rs.200 million in sugarcane marketing in Kamalia, Punjab). For his dream, the founder Aijaz Nizamani shifted from Karachi, leaving behind a plush job and literally moved to a village Waghi Adda, Kamalia in Punjab. Ruralasia is first business oriented and market approach to tackle rural poverty and for an inclusive development in the region.
Speaking on this occasion, Malik Nazeer Ahmed Wattoo told that in the city of Bhalwal, clean and safe water has been commoditized. The citizens not only pay for development of basic infrastructure, they also pay for each gallon of water they use, as low as 5 paisa per gallon. Poverty does not become an excuse. According to Wattoo, Changa Pani is a living testimony to the power of market in solving pressing social problems. The agency itself is running the project with sustainably.
PRIME's Executive Director Ali Salman told that the purpose of PRIME talks is to make Libertarianism synonymous with the ideas of progress, innovation, integrity, sustainability and individual empowerment, struggle and resourcefulness. Through these talks, PRIME hopes to create idea champions who can inspire change in others by sharing their personal story of change, but most importantly through the work they do. Essentially, Ali Salman said, we can use the power of markets to solve the problems of poverty.
First PRIME Talk was attended by a wide variety of people comprising youth, entrepreneurs, intellectuals, bureaucrats and development workers.